Leading consumer goods design, development, sourcing and logistics company for retailers and brands around the world.

COMPLIENCE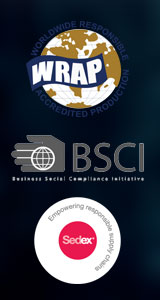 Zero Tolerance Policy
We have a clear zero tolerance policy regarding.
Child labor.
Forced labor.
Harassment and Abuse in any form.
Unauthorised subcontracting.
Failure to provide access to auditors.
Shared building unless approved by Head of Complience or factory located in building which has shops/markets.
Any unethical practise.
We work with the retailers & brands around the world and work hard to upheld their integrity & reputation. As part of this we maintain complete supply chain transparency.
© Copyright 2011, All Rights Reserved By PB TEX | Design & Developed By:
SCORSHIA