Leading consumer goods design, development, sourcing and logistics company for retailers and brands around the world.

SERVICES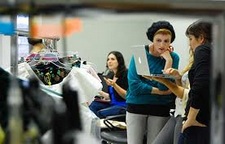 Merchandising
We have delegated Merchandising team lead by Merchandising Managers. Our Merchandising team is used to direct communication with the buyer/customer to understand their needs.
Their responsibilities vary from one merchandiser to another but, in general, our Merchandising team is responsible from Taking order to final shipment of goods.
Merchandising team is responsible to source the Trim and necessary accessories, Fabric for production, prepare a Time and Action plan to ensure the shipments on right time.
A part of above all of our merchandiser is used to visit factory once in a week to know the newness, identified and make sure all the production is on-time. We provide the best profit bonus to Merchandising team who have maintain the year on year business growth and maintain the on-time shipment.
© Copyright 2011, All Rights Reserved By PB TEX | Design & Developed By:
SCORSHIA