Leading consumer goods design, development, sourcing and logistics company for retailers and brands around the world.
ORGANIC
Organic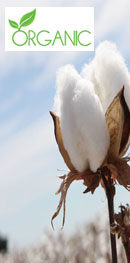 We have our current supplier/manufacturer who are doing Organic based order for customer and retailer around the world. All of our organic yarn is coming from China and Organic fabrics is coming from China.
We are able to do 100% Organic cotton based any kind of Clothes.
Apparently we are doing Organic in mix with regular cotton like 10-50% Organic and 90-50% regular cotton based as well.
Organic cotton is generally understood as cotton and is grown in subtropical countries such as Turkey, China, USA from non genetically modified plants, that is to be grown without the use of any synthetic agricultural chemicals such as fertilizers or pesticides. Its production also promotes and enhances biodiversity and biological cycles. In the United States cotton plantations must also meet the requirements enforced by the National Organic Program (NOP), from the USDA, in order to be considered organic. This institution determines the allowed practices for pest control, growing, fertilizing, and handling of organic crops. As of 2007, 265,517 bales of organic cotton were produced in 24 countries and worldwide production was growing at a rate of more than 50% per year.